And Together, They Mourned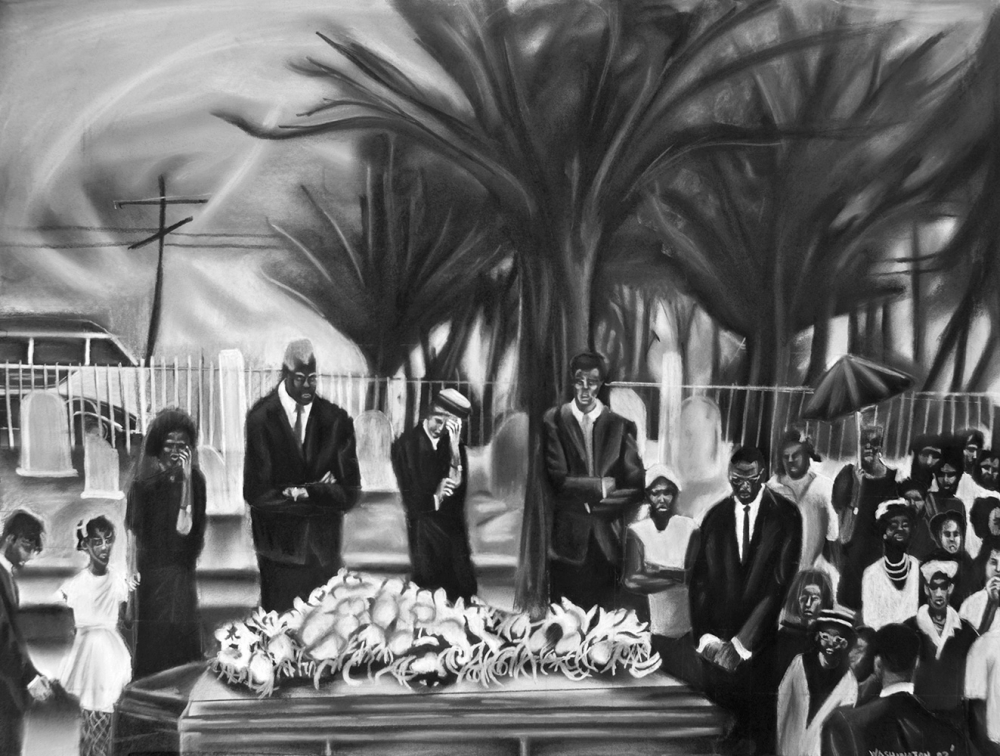 23.5 x 32 inches
•
mixed charcoal on paper
Although African American activists employed passive resistance in the battle for equal rights, reactionary violence was widespread by segregationists that opposed social change. Many died as a result of the Civil Rights Movement. Some of the victims were directly involved; others were random killings by segregationists who were trying to intimidate peaceful activists.
This viciousness was not without effect. Tragic murders raised awareness of the atrocities in the South, increasing support for the movement.
In many instances, stories and images of violence propagated by the media ignited the fires of the Civil Rights Movement, and allowed for the movement to acquire the popular support that ultimately changed America.
The American public is familiar with the famous historical figures that lost their lives in the quest for equal rights. But there are many unknown, common people who also lost their lives fighting for a cause that changed the world. These were mothers, fathers, brother, sisters, and children. Their contributions and lives must be remembered, and their legacy honored.
In "And Together, They Mourned," Washington depicts an emotional funeral scene celebrating the life, and mourning the loss of an anonymous civil rights protester who died in furtherance of the equal rights movement. Although history typically acknowledges the loss of life that resulted from the assassinations of important historical figures involved in civil rights, these were not the only people who paid the ultimate price for the freedoms so many now enjoy. Many common people died at the hands of racially driven violence, which ranged from church bombings, lynchings, police force, and unprovoked violence from segregationists who wished to scare African Americans into submission.
In, "And Together, They Mourned," Washington positions a grieving family behind a casket that holds the father of the family, the head of the household. The mother, who has lost her husband and the father of her children, wipes tears of despair from her face through her veil. She holds the hand of her daughter, who stares at the casket in disbelief that she has lost her father by unprovoked violence, and does not understand why the world views her family as less than that of other white families. Surrounding the casket are extended family members, and in the background are friends of the deceased, whose grim facial expressions communicate a conflicted existence. On the one hand, they mourn the loss of a dear friend. On the other hand, they worry that they themselves, or members of their family, may face the same fate for standing up for equality and seeking equal rights.
This piece of artwork communicates the important fact that the violence of the Civil Rights Movement affected more than just the people who lost their lives – it affected their loved ones as well. Family members were forced to carry on – mothers without their husbands, children without their fathers.
•••