Get Out the Vote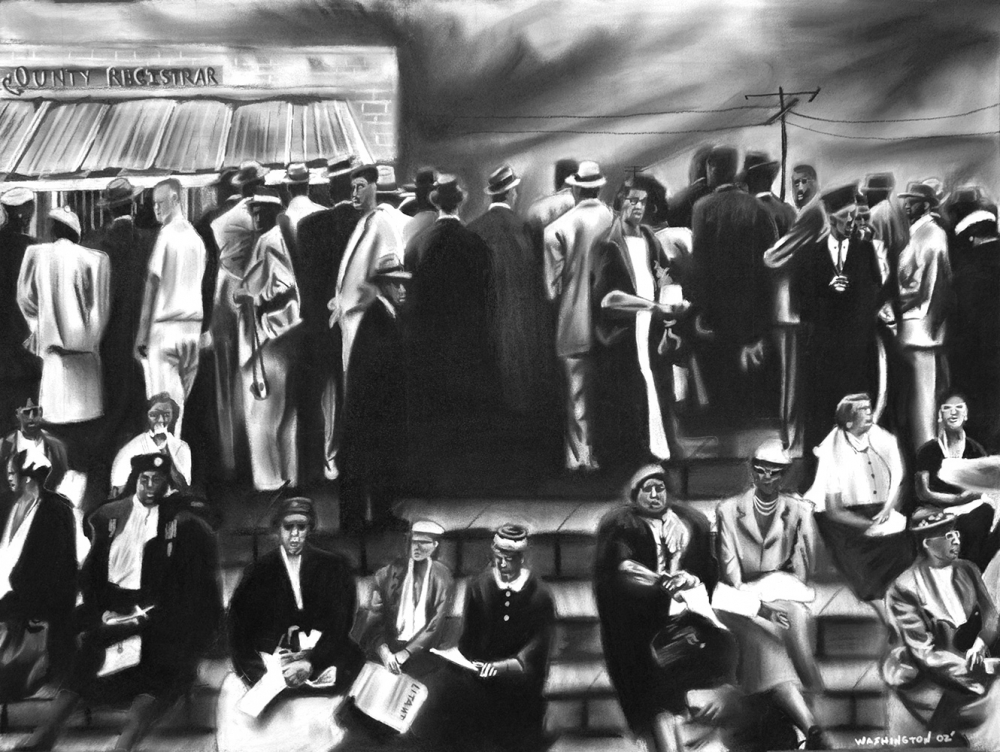 23.5 x 32
•
mixed charcoal on paper
The right to vote is one of the most cherished rights of citizenship in the United States and the basis of the American democratic form of government. Yet, throughout America's history, African Americans have been denied that basic right. African Americans in the early part of the 20th century, as well as in the 1960s had to fight to be included in the American democratic process.
The 15th Amendment to the Constitution, adopted in 1870, guaranteed the right to vote regardless of race, color, or previous condition of servitude. Yet, the amendment alone did not ensure African Americans the right to vote. With the collapse of Reconstruction and the imposition of government-sanctioned segregation laws, many southern states used a variety of techniques – including literacy tests, poll taxes, intimidation, threats, and violence – to keep African Americans from voting. The drive to win meaningful access to the franchise was therefore among the Civil Rights Movement's top priorities.
Despite these actions, over the following years, African American voter registration campaigns rapidly grew. "Get Out the Vote" campaigns were organized throughout the American South to motivate political participation and increase levels of voter turnout among disenfranchised African Americans. These campaigns helped register African American voters and build community organizations that could win a share of political power in the states.
In "Get Out The Vote," Washington depicts a large group of African Americans who have shown up to the County Registrar to register to vote. Although unprovoked violence from segregationists often followed efforts by Blacks to exercise their constitutional right to vote, this group of citizens have come out in large numbers to demonstrate their commitment to exercising their rights. The gathering of so many people to register was not only a political effort, it was also social one. As the registration line stretches across the image, in the foreground, individuals who have already registered to vote socialize together and enjoy each other's company, knowing that they share an understanding of the significance of the matters at hand.
•••