The House That the Lord Built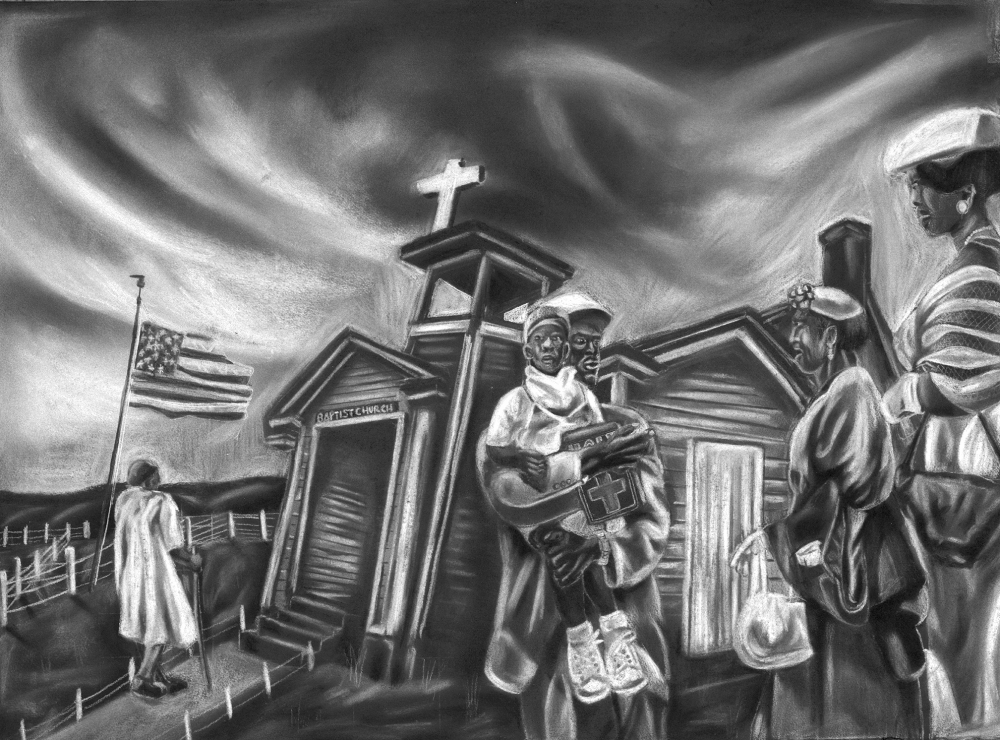 22.125 x 30 inches
•
mixed charcoal on paper
African American churches were perhaps the only black dominated mass organizations in the South capable of rallying major support at the time of the Civil Rights Movement. African American churches played an integral role in the Civil Rights Movement. Churches were one of the first and often only institutions in society where African Americans had relative freedom from the control and oppression of Whites. African American congregations were places where political and social leadership developed and the interests of the black community were advanced. African American congregations were responsible for founding many of the vital institutions within the black community such as schools, banks, insurance companies, and low-income housing.
During the civil rights era, it was the African American churches that held the leadership role. African American churches not only offered hope of redemption from oppression, but also coordinated and centralized Civil Rights Movement operations.
In "A House That the Lord Built," Washington depicts a typical rural African American church that would have served as a hub for several different aspects of the African American community life. More than simply a place of worship, these churches played a pivotal role in the southern state marches and led to the passage of crucial civil rights legislation. The list of influential civil rights leaders with church roots who changed our country is long.
This African American church also would have been a meeting point for the African American community. Nearly every generation and genre of African American life is illustrated in this image, a notion that is consistent with the all-encompassing nature of the church. In the foreground, several women descend upon the church, accompanied by a man holding a child, who they hope will live a life free of the oppression and systemic disenfranchisement they have experienced. Near the entry of the church, an elderly woman enters the building. She walks with the assistance of a cane, her physical capabilities limited by years of strenuous sharecropping work. The image portrays every generation of the African American community; elder, mother, father, child. Given the importance of religious faith in the lives of civil rights activists, if any institution were capable of assembling the entire spectrum of African American life in the same place at the same time, it was the church – the "house that the Lord built."
•••