A Pain of a Darker Hue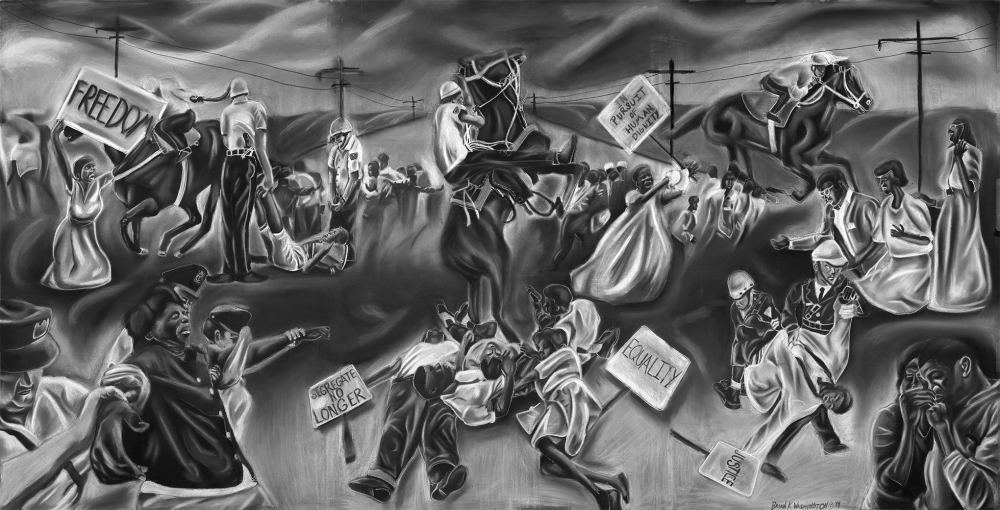 44 x 88 inches
•
mixed charcoal on paper
The civil rights era witnessed nothing less than an urban war between police, the National Guard, and the African-American community. Everything from police horses, fire hoses, and attack dogs were used to dispel peaceful protesters and children. Riots and violence between Blacks and Whites were especially common in cities with a predominately black population or a mixed population, particularly in the South. Such violence was especially commonplace whenever African Americans attempted to use "strength in numbers" and publicly protested racial inequality in mass groupings.
Despite widespread violence inflicted by the powers that be, these valiant protesters continued to fight for equal rights. This persistence was important, as many activists believed changes might be made if enough people outside the South witnessed the violence Blacks had experienced for decades.
In "A Pain of a Darker Hue," the epic, mural-sized centerpiece of The Continual Struggle, Washington depicts the full range of horrors that arose from violent reaction to nonviolent protest in the South. The image depicts a large scale civil rights protest gone awry by the violence of southern authorities. The image is composed of several different meticulously rendered figures, all evidencing a different emotion elicited by the police's use of unfettered violence.
In the foreground of the image, a group of protesters lay on the ground, having been shoved and trampled by police riding police horses. In the center of the image, police on horses hover over and trample peaceful protesters. To the upper left, a woman has fallen to her knees, but still manages to hold up a sign that makes her purpose clear: "FREEDOM." To the bottom left, a woman is apprehended by police officers and dragged to be incarcerated, even though she has broken no laws. On the far right of the image, a couple embraces and cries in horror at the atrocities taking place in front of their eyes – perpetrated on the belief that their lives are not as valuable as those of white Americans. In the center right of the image, a group of protesters kneel in prayer, as their fellow protester is dragged next to them viciously across the asphalt by the police.
•••